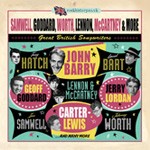 Great British Songwriters
British songwriters only really started to come into their own during the latter half of the 1950s, commensurate with the arrival of Rock & Roll and the gradual development of a genuine home-grown scene (i.e. as opposed to the 'manufactured' version which the music/record industry had earlier tried to foist upon us).  Prior to that, British songwriting had been an almost entirely Tin Pan Alley-driven affair and very few of the genre's established writers would overlap into the R&R/Teen Idol/Pop era with any noticeable – or sustained – commercial success.
Indeed, before Tommy Steele's arrival in the Autumn of 1956 with the 'Rock With The Caveman' (a song he'd co-written with Lionel Bart and Mike Pratt), most English R&R/Pop records were traditionally covers of American hits, whilst many of the era's established 'popular singers' had come from the various Dancebands and were only really comfortable with MOR and/or novelty material.  But the Skiffle boom, which had erupted earlier in the year, had moved the goalposts somewhat and served to pave the way for change.
Ironically, Lionel Bart proved to be a direct link to the old guard and would soon be writing musicals and soundtracks.  Nonetheless, he penned mainstream hits like Cliff Richard's 'Living Doll' (1959) and Anthony Newley's 'Do You Mind' (1960), both of which topped the UK charts, whilst 'Hide And Seek' was a minor chart entry for Marty Wilde.  He also wrote a dozen or so hits for Tommy Steele, including the calypso-styled 'Water Water'; Steele usually co-wrote with Bart, as did Mike Pratt, although Petula Clark's 'Suddenly' was entirely the latter's own work.
Another occasional Bart collaborator was Trevor Peacock, whose successes included Joe Brown's 'That's What Love Will Do', The Vernons Girls' 'You Know What I Mean' and Jess Conrad's 'Mystery Girl', while 'Stick Around' was recorded by both Billy Fury and Joe Brown.  Peacock also collaborated with John Barry – cf Adam Faith's 'Beat Girl', from the movie of that name – whose own hitmaking exploits famously included 'Hit And Miss', the theme music to BBC's Juke Box Jury.
However, the pivotal UK R&R recording was, of course Cliff's 'Move It', written by Drifters' guitarist Ian Samwell in the summer of 1958.  Sammy went on to pen a whole slew of hits for Cliff, including 'Fall In Love With You' and 'Gee Whiz It's You', the latter a co-write with his replacement in The Drifters, Hank B. Marvin.  Hank would prove to be a durable writing partner, often working with fellow-Drifter/Shadow Bruce Welch – together they penned hits like 'FBI' and 'The Boys' – whilst Cliff recorded 'You And I' on his Me And My Shadows LP, and The Brook Brothers generated considerable airplay with 'That's The Way It Goes'.
They also both wrote extensively with former bandmate Pete Chester, with whom they'd formed The Five Chesternuts when they first came to London in early 1958.  Marvin wrote their 'Teenage Love' with him (under his real name, Brian Rankin), and Welch and Chester later teamed up to write Cliff's 'Please Don't Tease', another UK No.1.  Chester also wrote under his own steam, his 'It's Lonesome' making a great B-side for Cliff soundalike Dave Sampson.  Elsewhere, another name inextricably linked to The Shadows is Jerry Lordan, who wrote many of their hits including the biggest, 'Wonderful Land', which topped the NME charts for a breathtaking 9-weeks in the Spring of 1962.  In a hit-studded career, he also penned Anthony Newley's 'I've Waited So Long' and Shane Fenton's 'I'm A Moody Guy'.
In an era when few Pop/R&R singers wrote their own material, Billy Fury, Johnny Kidd, Marty Wilde and Anthony Newley – along with the aforementioned Tommy Steele – stood out like polished gems.  Billy wrote a number of his early hits, including 'Maybe Tomorrow' and 'Margo (Don't Go)', as did Kidd (the chart-topping 'Shakin' All Over', and the similarly-styled 'Please Don't Bring Me Down'), whilst Marty's atmospheric 'Tomorrow's Clown' remains one of his most memorable 45s (he also penned 'Teenage Love' for Michael Cox).  Newley teamed up with Leslie Bricusse to write 'Lumbered' for Lonnie Donegan, whilst 'Idle Rock-A-Boogie' (a co-write with Joe 'Mr Piano' Henderson) featured in the soundtrack to his film Idle On Parade (elsewhere, Henderson also wrote Pet Clark's 'Dear Daddy').
By far the most successful songwriter of the period covered by this compilation, Yani Panakos Paraskeva Skoradalides (aka Johnny Worth, aka Les Vandyke, aka John Worsley) wrote countless hits for men like Adam Faith (including 'What Do You Want', a UK No.1, and 'The Time Has Come'), Eden Kane ('Well I Ask You', another UK No.1) and Jimmy Justice ('Ain't That Funny'), among a myriad of others.
Indie producer Joe Meek teamed up with songwriter Geoff Goddard during 1961 to unleash a run of killer hits, which included John Leyton's chart-topping 'Johnny Remember Me', the sublime 'Son This Is She', and Mike Berry & The Outlaws' controversial 'Tribute To Buddy Holly'.  Meek himself had been writing songs since the 50s – Tommy Steele's 'Put A Ring On Her Finger' had been an early earner for him, whilst he'd written Don Charles' 'Walk With Me My Angel' under his Robert Duke pseudonym, and the atmospheric 'North Wind' remains one of his most collectable productions.  However, Joe's biggest hit was famously with The Tornados' multi-million selling/chart-topping 'Telstar', which at the end of 1962, became the first disc by a British group to top the US charts.
Pianist/arranger Charles Blackwell had worked for Joe Meek since the 50s – he'd arranged the Leyton and Berry discs – and in 1962 he struck out on his own, hitting gold immediately with Mike Sarne's irrepressible 'Come Outside', a surprise No.1 early that summer (it had originally been cut as a B-side – Geoff Goddard's 'Fountain Of Love' was the nominal topside).  In its wake, Sarne also charted with 'Will I What' (the Carter-Lewis team's first hit, under their 'real' names of John Shakespeare and Ken Hawker) and Blackwell's tongue-in-cheek biker anthem 'Just For Kicks'.
Whilst we're in a quasi-novelty bag, Alan Klein wrote Joe Brown's 'What A Crazy World' and his own 'Striped Purple Shirt', the latter another Joe Meek production, whilst Tony Hatch (under his Mark Anthony alias) teamed up with Benny Hill for the latter's 'Transistor Radio'.  Hatch was, of course, a mainstream producer and writer who would go on to enjoy massive successes later in the decade.  His 'Top Teen Baby' had been a hit for Gary Mills in 1960, whilst Jimmy Justice's 'When Love Has Left You' and The Brook Brothers' 'Tell Tale' were near misses in 1961 and 62 respectively.
Bill Crompton and Morgan 'Thunderclap' Jones were a remarkably versatile team, writing things like 'The Stranger' for The Shadows, 'So What' for Johnny Kidd & The Pirates, and 'You Made A Monkey Out Of Me' for Joe Brown.  No less versatile were John Schroeder and Mike Hawker, whose hits for Helen Shapiro ran from ballads like 'You Don't Know' to big beat numbers like 'Walking Back To Happiness', both of which topped the UK charts.
By 1962 a new generation of songwriters were emerging, who would go on to help define and shape the Pop sounds of the 60s.  Apart from those already mentioned, these new 'young turks' included men like Les Reed ('Wishful Thinking'), Geoff Stephens ('Here's Hopin''), Mitch Murray ('I Knew It All The Time'), John Carter & Ken Lewis ('Back On The Scene') and Tom Springfield ('Island Of Dreams') – but none more so than messrs John Lennon and Paul McCartney, whose 'Love Me Do' was a perhaps unlikely harbinger of what would follow…
SONGWRITING CREDITS
JOHN LEYTON – Johnny Remember Me ~ (Goddard)
CLIFF RICHARD & THE SHADOWS – Gee Whiz It's You ~ (Marvin/Samwell)
THE SHADOWS – Wonderful Land ~ (Lordan)
DAVE SAMPSON & THE HUNTERS – It's Lonesome ~ (Chester)
MICHAEL COX & THE HUNTERS – Teenage Love ~ (Wilde)
BILLY FURY – Maybe Tomorrow ~ (Fury)
ADAM FAITH – What Do You Want ~ (Vandyke)
THE VERNONS GIRLS – You Know What I Mean ~ (Peacock)
MIKE SARNE – Come Outside ~ (Blackwell)
HELEN SHAPIRO – Walkin' Back To Happiness ~ (Hawker/Schroeder)
JIMMY JUSTICE – Ain't That Funny ~ (Vandyke)
THE SHADOWS – F.B.I. ~ (Marvin/Welch/Harris)
CLIFF RICHARD & THE SHADOWS – Fall In Love With You ~ (Samwell)
ADAM FAITH – Beat Girl ~ (Barry/Peacock)
CARTER-LEWIS & THE SOUTHERNERS – Back On The Scene ~ (Carter/Lewis)
THE SPRINGFIELDS – Island Of Dreams ~ (Springfield)
THE BROOK BROTHERS – That's The Way It Goes ~ (Marvin/Welch)
JOHNNY KIDD & THE PIRATES – So What ~ (Crompton/Jones)
HOUSTON WELLS & THE MARKSMEN – North Wind ~ (Meek)
MIKE SARNE – Fountain Of Love ~ (Goddard)
BENNY HILL – Transistor Radio ~ (Hill/Anthony)
DON CHARLES – Walk With Me My Angel ~ (Duke)
ANTHONY NEWLEY – I've Waited So Long ~ (Lordan)
PETULA CLARK – Dear Daddy ~ (Henderson/Fishman)
JACKY LYNTON – Wishful Thinking ~ (Reed/Vandyke)
ALAN KLEIN – Striped Purple Shirt ~ (Klein)
JOE BROWN & THE BRUVVERS – You Make A Monkey Out Of Me ~ (Crompton/Jones)
LONNIE DONEGAN – Lumbered ~ (Newley/Bricuss)
BILLY FURY – Stick Around ~ (Peacock)
CLIFF RICHARD & THE DRIFTERS – Living Doll ~ (Bart)
JOHNNY KIDD & THE PIRATES – Shakin' All Over ~ (Heath)
THE TORNADOS – Telstar ~ (Meek)
THE JOHN BARRY SEVEN – Hit & Miss ~ (Barry/Poser/Turner)
MARTY WILDE – Tomorrow's Clown ~ (Wilde)
JOHN LEYTON – Son This Is She ~ (Goddard)
CLIFF RICHARD & THE SHADOWS – Please Don't Tease ~ (Welch/Chester)
BILLY FURY – Margo (Don't Go) ~ (Fury)
SHANE FENTON & THE FENTONES – I'm A Moody Guy ~ (Lordan)
EDEN KANE – Well I Ask You ~ (Worth)
HELEN SHAPIRO – You Don't Know ~ (Hawker/Schroeder)
ANTHONY NEWLEY – Do You Mind ~ (Bart)
JESS CONRAD – Mystery Girl ~ (Peacock)
ADAM FAITH – The Time Has Come ~ (Worsley)
MIKE BERRY & THE OUTLAWS – Tribute To Buddy Holly ~ (Goddard)
THE SHADOWS – The Stranger ~ (Crompton/Jones)
CLIFF RICHARD & THE SHADOWS – You And I ~ (Marvin/Welch)
JOE BROWN & THE BRUVVERS – What A Crazy World We're Livin' In ~ (Klein)
MIKE SARNE – Will I What? ~ (Shakespeare/Hawker/Bates)
TOMMY STEELE – Put A Ring On Her Finger ~ (Meek)
THE FIVE CHESTERNUTS – Teenage Love ~ (Chester/Rankin)
ANTHONY NEWLEY – Idle Rock-A-Boogie ~ (Henderson/Newley)
CARTER-LEWIS & THE SOUTHERNERS – Here's Hopin' ~ (Reed/Stephens)
THE BROOK BROTHERS – Tell Tale ~ (Hatch)
GARY MILLS – Top Teen Baby ~ (Hatch/Lewis)
PETULA CLARK – Suddenly ~ (Pratt)
THE DAVE CLARK FIVE ft. MIKE SMITH – I Knew It All The Time ~ (Murray)
THE SHADOWS – The Boys ~ (Marvin/Welch/Bennett)
JIMMY JUSTICE – When Love Has Left You ~ (Hatch/Lacey)
JOE BROWN & THE BRUVVERS – That's What Love Will Do ~ (Peacock)
MARTY WILDE – Hide And Seek ~ (Bart)
JOHNNY KIDD & THE PIRATES – Please Don't Bring Me Down ~ (Kidd)
MIKE SARNE – Just For Kicks ~ (Blackwell)
TOMMY STEELE – Water, Water ~ (Bart/Pratt/Steele)
CLIFF RICHARD & THE DRIFTERS – Move It ~ (Samwell)
THE BEATLES – Love Me Do ~ (Lennon/McCartney)