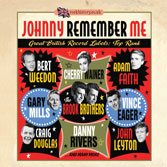 In hindsight, the shortlived TOP RANK label would appear to have been a magnificent folly, perpetrated by the mighty Rank Organisation. Launched in 1959, at their peak they were pumping out a vast amount of material, clocking up hits with both licensed-in US repertoire and UK artists, The man whose initials prefixed the label's catalogue numbers was one Joseph Arthur Rank, a wealthy, Yorkshire-born industrialist whose family's lucrative flour-milling empire funded his subsequent business ventures. In those days, the UK record industry was an extremely formal, regulated affair, and cut-price product was frowned upon; moreover, Rank's initial pressing arrangement with Philips meant that they would have to comply with the UK's existing resale price maintenance framework and distribution protocols but they proceeded to take liberties with many of the industry's unwritten rules (the first UK record company to issue mainstream Pop LPs at budget price, they would be rewarded with a No.1 album in February 1960, The Explosive Freddy Cannon).
Click on the sleeve to BUY
CD1
JOHN LEYTON – Johnny Remember Me
RICKY WAYNE & THE FABULOUS FLEE-RAKKERS – Hot Chick A'Roo
CRAIG DOUGLAS – A Hundred Pounds Of Clay
BERT WEEDON – Guitar Boogie Shuffle
TOMMY HAWKE – Good Gravy
VINCE EAGER – (I Wanna) Love My Life Away
DANNY RIVERS – I Got
GARY MILLS – Hey Baby (You'e Pretty)
CHERRY WAINER – I'll Walk The Line
JOSH MACRAE – Talking Army Blues
JO SHELTON – I Need Your Arms Around Me
BERT WEEDON – Sorry Robbie
THE BROOK BROTHERS – Please Help Me I'm Falling
ROSE BRENNAN – Johnny Let Me Go
KENNY DAY – Teenage Sonata
THE KNIGHTSBRIDGE STRINGS – Walkin' Shoes
SHEILA BUXTON – Sixteen Reasons
CRAIG DOUGLAS – Pretty Blue Eyes
VINCE EAGER – Why
TONY CROMBIE – Man From Interpol
Main Theme
LORIE MANN – Dream Lover
PINEWOOD STUDIO ORCH FEATURING JOHNNY DANKWORTH – Sapphire
JANET RICHMOND – Not One Minute More
BERT WEEDON – Ginchy
JACKIE DENNIS – Summer Snow
RUSS SAINTY & THE NU-NOTES – Standing Around
TONY HATCH – Rhoom Ba-Cha
MIKE DESMOND – Tua
DES LANE (THE PENNY WHISTLE MAN) – Moonbird
ADAM FAITH – Ah, Poor Little Baby
BIG BARON – Romance
JOHN LEYTON – Tell Laura I Love Her
THE FABULOUS FLEE-RAKKERS – You Are My Sunshine
GARY MILLS – Look For A Star
CD2
CRAIG DOUGLAS – Time
JOHN LEYTON – Wild Wind
DANNY RIVERS – Hawk
BERT WEEDON – Nashville Boogie
VINCE EAGER – The World's Loneliest Man
GARY MILLS – Comin' Down With Love
ADAM FAITH – Runk Bunk
THE KNIGHTSBRIDGE STRINGS – The Executioner Theme
JANET RICHMOND – You Got What It Takes
THE BROOK BROTHERS – When Will I Be Loved
BETTY MILLER – (It Took) One Kiss
BOB WALLIS & HIS STORYVILLE JAZZMEN – Captain Morgan
RICKY WAYNE & THE FABULOUS FLEE-RAKKERS – Don't Pick On Me
KENNETH CONNOR – Rail Road Rock
BIG BARON – Swinging Bells (Oberon Jump)
VINCE EAGER – Makin' Love
RUSS SAINTY & THE NU-NOTES – Happy-Go-Lucky Me
TONY CROMBIE & HIS MEN – Drum Boogie Shuffle
CRAIG DOUGLAS – Only Sixteen
LORIE MANN – So Many Ways
TONY HATCH – Stetson
ROSE BRENNAN – My Summer Diary
JOHN LEYTON – You Took My Love For Granted
BERT WEEDON – Big Beat Boogie
SHEILA BUXTON – Shakedown
MIKE DESMOND – If I Were The Sky
JO SHELTON – Tread Softly (You're Stepping On My Heart)
ANNE HEYWOOD – Love Is
THE HARRY ROBINSON 'STRING SOUND' – The Skirl
GARY MILLS – Teen Angel
JOSH MACRAE – Talking Guitar Blues
TONY HATCH – Chick
CRAIG DOUGLAS – When My Little Girl Is Smiling
THE FABULOUS FLEE-RAKKERS – Green Jeans.