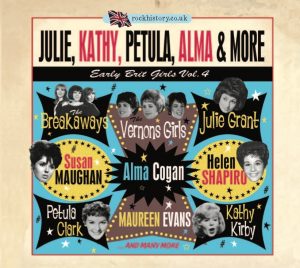 Welcome to the fourth instalment of EARLY BRIT GIRLS, the series in which we explore the rise of UK girlies from the mid 50s to the newly emergent Brit Girl sound of the early 60s, at the dawn of the Beat era. Like its three predecessors, Bouffants, Beehives & Backcombing – Early Brit Girls Vol.1 (RHGB 25), Helen, Dusty, Susan, Carol & More – Early Brit Girls Vol.2 (RHGB 31) and Lip Gloss, Eyeliner & Hairspray – Early Brit Girls Vol.3 (RHGB 33), this compilation presents a wide range of differing vocal styles, which of course makes for some really interesting listening. However, a warning; you won't find many hits here, as the vast majority of these lasses' chart records have been included either in those earlier volumes, or elsewhere on other RHGB compilations. Hence, this set includes plenty of collectors' rarities and unexpected surprises.
Release date is October 2017 – click the sleeve above for your link
CD1
MAUREEN EVANS – Stupid Cupid
LORRAE DESMOND – Get Your Daddy's Car Tonight
CHERRY ROLAND – What A Guy
JACKIE FRISCO – He's So Near
ALMA COGAN – Tell Him
SUSAN SINGER – Gee! It's Great To Be Young
CAROL DEENE – The Boy On The Beach
SUSAN MAUGHAN – Hand A Handkerchief To Helen
THE DELAINE SISTERS – Puppet On A String
KAY BARRY – Speak To Me Pretty
PAMELA BLUE – Hey There Stranger
HELEN SHAPIRO – I Apologise
LOUISE CORDET – She's Got You
THE BREAKAWAYS – Here She Comes
SIMONE JACKSON – Tell Me What To Do
THE VERNONS GIRLS – Dat's Love
LORNE LESLEY – We're Gonna Dance
PATSY ANN NOBLE – I'm Nobody's Baby
CHRISTINE QUAITE – Oh My!
SANDRA GALE – If She's Right For You
CLEO LAINE – Mister One And Only
JEAN CAMPBELL – Train Of Love
MARION RYAN – Wait For Me
KATHY KIRBY – Crush Me
PETULA CLARK – With All My Heart
YANA – If You Don't Love Me
THE SPRINGFIELDS – Waf-Woof
ANNE SHELTON – Do You Love Me Like You Kiss Me
THE BEVERLEY SISTERS – Greensleeves
RUBY MURRAY – Forever
VALERIE MASTERS – Say When
NANCY WHISKEY & HER SKIFFLERS – He's Solid Gone
OTTILIE PATTERSON WITH CHRIS BARBER'S JAZZ BAND – I Hate Myself (For Being So Mean To You)
CD2
HELEN SHAPIRO – I Love You
THE AVONS – A Wonderful Dream
PATTI LYNN – Big Big Love
ROSEMARY LANE – Who Does He Think He Is?
GRAZINA – I Ain't Gonna Knock On Your Door
SUSAN HAYWARD – You Bet I Would
MARILYN LEE – Keep Your Hands Off My Baby
CHRIS BARBER'S JAZZ BAND featuring OTTILIE PATTERSON – Strange Things Happen Every Day
LYN CORNELL – The Sweet Life (La Dolce Vita)
JOAN SMALL – You Can't Say I Love You To A Rock'n'Roll Tune
JOAN SAVAGE – Lula Rock-A-Hula
MAUREEN EVANS – Mamma Wouldn't Like It
VALERIE MASTERS – Cow Cow Boogie
THE VERNONS GIRLS – Ten Little Lonely Boys
THE DALE SISTERS – Secrets
SHEILA BUXTON – Soldier, Won't You Marry Me?
GUNILLA THORNE – Go On Then
JENNY MOSS – Big Boys
JANICE NICHOLLS – I'll Give It Five
PATTI BROOK – When The Red, Red Robin
BEVERLEY JONES – When It Comes To Love
THE LANA SISTERS – Sitting On The Sidewalk
JANICE PETERS – Kiss Cha Cha
KATHY KIRBY – I Can't Say Goodbye
THE KAYE SISTERS – If Only You'd Be Mine
JULIE GRANT – Ev'ry Letter You Write
LITA ROZA – I've Got My Eyes On You
EVE BOSWELL – You're My Thrill
JOAN REGAN – Surprisin'
JANET RICHMOND – Not One Minute More
LYNDA GRAHAM – Wait And See
EDNA SAVAGE – Maybe This Year
SHIRLEY BASSEY – What Now My Love.