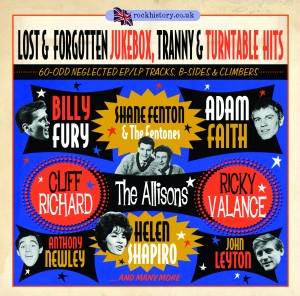 Despite what many would have us believe, not every 'hit record' is listed in the dreaded Guinness Book Of Hit Singles.  Let's face it, quite apart from the fact that the 'official' early 60s charts have long since been exposed as deeply flawed, it should be remembered that not every track which became popular was issued as an A-side.  Back in the day, many EPs sold in copious amounts (as is well documented, several sold in sufficient quantities to be included in the NME, Melody Maker and Disc singles' chart listings – but not Record Retailer's, hence they're not perceived as having been hits), whilst any number of LP tracks received significant radio airplay.  Ditto some truly memorable B-sides, many of which were also massive jukebox hits, some even making the lower reaches of various hit parades (although again, often not Record Retailer's) under their own steam.
Moreover, there's a whole raft of 45s which were hugely popular and are fondly remembered as hits, although they may have enjoyed only the briefest of passing acquaintances with the Top 50, whilst there is yet another, even bigger tranche of much-loved oldies, all of whom seemed equally popular in terms of radio and jukebox play at the time, yet somehow failed even to breach the charts.  This compilation covers all bases.  I remember virtually all these sides either from contemporaneous radio or jukebox play or, in some instances, from mates owning copies and playing them to death – which, to my mind, qualifies them as bona fide turntable hits.
Over and above their various hit singles and LPs, most of the major stars of the era sold truckloads of EPs, none more so than The Shadows, whose 'Mustang' was the plug track on their eponymous, debut EP.  A massive seller, it topped the EP charts for 20-weeks between January and June 1961 – a year in which they would top the EP listings for an astonishing forty-three weeks!  Their lead singer, Cliff Richard, of course registered strongly with the Expresso Bongo movie soundtrack (featuring the rather twee 'Shrine On The Second Floor'), which had topped the EP listings and made a significant dent in the singles' Top 20 a year earlier.  Whilst we're talking film soundtracks, Anthony Newley had likewise made the singles charts with the Idle On Parade EP (check out 'Saturday Night Rock-A-Boogie') back in '59, whilst Billy Fury scored heavily across the Summer and Autumn of '62 with his Play It Cool four-tracker.
Elsewhere, although Nina & Frederick struggled to make the Top 50 in early 1960 with the gentle 'Listen To The Ocean', the EP from whence it was culled, Nina & Frederick Vol.1, would spend more than 2-years (a staggering 115-weeks) on the EP charts, peaking at #2.  Other big-selling EPs around this time included Emile Ford's chart-topping Emile (featuring 'Red Sails In The Sunset'), Lonnie Donegan's Jerry Leiber & Mike Stoller-produced Yankee Doodle Donegan (containing a great version of The Coasters' 'Sorry But I'm Gonna Have To Pass'), which he recorded in New York, schoolgirl sensation Helen Shapiro's unlikely quartet of oldies, Helen (on which the standout track was 'After You've Gone'), which topped the EP charts for 9-weeks at the end of 1961, and yodelling Scotsman Karl Denver's bizarre By A Sleepy Lagoon, from which we've plucked the mighty 'Snow Shoes Thompson'.
Among a plethora of discs which merely tickled the charts, but are often remembered as having been far bigger hits, were Dave Sampson & The Hunters' superb Cliff & The Shads-like 'Sweet Dreams', Marty Wilde's equally-twangy 'Ever Since You Said Goodbye', Bobby Angelo & The Tuxedos' rocking 'Baby Sittin'' (yet another track evincing a strong Shadows' influence!), Danny Storm's popcorn teenbeat fave 'Honest I Do', The Springfields' chirpy chart debut, 'Breakaway' and a pair of Joe Meek productions, Danny Rivers' moody 'Can't You Hear My Heart' and Iain Gregory's (typically) overtly compressed 'Time Will Tell'.
Conversely, there were any number of other minor chart entries which seem to have dropped off most peoples' radar, most notably Mike Sagar & The Cresters's eerie, Meek-like 'Deep Feeling', The Allisons' excellent 'Lessons In Love' (unforgivably, they are remembered as mere one hit wonders), The Brook Brothers' rather splendid Shirelles' cover 'Welcome Home Baby' (on which they somehow contrive to sound like Bobby Vee), Cleo Laine's big band-driven 'Let's Slip Away', Craig Douglas's upbeat 'Oh! What A Day' (ironically, one of his stronger releases) and Brad Newman's raucous, overproduced, everything-in-it-but-the-kitchen-sink 'Somebody To Love'.
Popular B-sides around this time included Adam Faith's 'Big Time', which dented both the NME and Melody Maker charts, Joe Brown's mellifluous 'All Things Bright And Beautiful', which also featured The Breakaways, former Shadows Jet Harris & Tony Meehan's infectious 'Footstomp', an unlikely vocal number which they reprised in the film Just For Fun, Vince Taylor & The Playboys' menacing 'Jet Black Machine', something of a double-sided hit (c/w 'I'll Be Your Hero' – both sides briefly dented the Record Mirror chart) and Andy Cavell's haunting 'Hey There Senorita', whilst in an unlikely scenario, Jimmy Justice's revival of 'Little Lonely One' became an unexpected hit for him in Sweden.
But, of course, by far the biggest selection of 'lost and forgotten hits' are those records which we all remember clearly, be it via radio/jukebox/whatever play, but which inexplicably failed to make any chart impact.  Some of these were 45s released by established artists – sometimes sandwiched between a couple of their biggies – which would have received much the same airplay as though they'd also been hits, despite their (eventual) lack of chart status.  Discs which fall squarely into this category include Johnny Kidd's brash, brassy 'I Want That' (recorded with The Mike Sammes Singers – an attempt by HMV to market Kidd as a solo singer, minus the ubiquitous Pirates), Shane Fentone & The Fentones' yearning 'Too Young For Sad Memories', Skiffle kings The Vipers' excellent reading of Dickie Bishop's 'No Other Baby', Tommy Steele's enterprising cover of Brook Benton's US million-seller 'Hit Record' (which, astonishingly, wasn't!), Michael Holliday's brave attempt at a change of musical direction with his upbeat cover of Leiber & Stoller's 'Drums', a regional US hit for Kenny Chandler, Doug Sheldon's dramatic movie theme 'Live Now Pay Later', and Mike Berry & The Outlaws' string-driven, ultra-commercial 'Every Little Kiss'.
The latter was another fine Joe Meek jobbie – and indeed, a great many RGM productions only narrowly missed out on chart action, including Jamie Lee & The Atlantics' blatant Del Shannon ripoff 'In The Night', The Dowlands' jaunty 'Little Sue', songwriter Geoff Goddard's 'My Little Girl's Come Home' (his best single),  Gerry Temple's 'Angel Face', Tony Victor's cover of Larry Finnegan's US Top tenner 'Dear One', and Alan Klein's mock-cockerney 'Three Coins In The Sewer', which received massive radio play across the Summer of '62, whilst John Leyton's galloping 'Voodoo Woman' was John's own favourite track from his LP, although his record company refused to issue it as a single.  A number of RGM-soundalikes also came close to chart-dom, most notably Cal Danger, Billy Boyle, Dean Parker & The Redcaps and Johnny Clive.
Unfortunately, space restrictions make impossible to discuss all sixty-eight tracks on this compilation.  But there are plenty of other stonking 45s herein, ranging from well-known artists like Ricky Valance, Eden Kane, Russ Sainty, Michael Cox, Don Lang, Perry Ford, The Viscounts, Buddy Britten, Robb Storme, etc, to the rather more obscure, e.g. Lee Diamond & The Cherokees, Danny Davis, Christine Quaite, Johnny Gavotte, Terry Young, Johnny DeLittle (for whom great things had been predicted), Tim Connor, Eddie Mannion – and who could ever forget Chance Gordon's (frankly, absurd) 'Instant Love'?
Groper Odson
 Acknowledgments: Thanks to Bernie Keith, Lucky Parker and some late, sadly-missed friends, most notably Bernard Futter and Tony Wilkinson