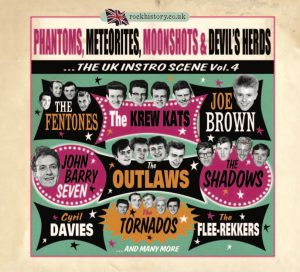 Long ago, before things started to get Twangy, Britain's leading instrumentalists usually either honked, parped, or plinked. Dance bands filled the airwaves, and it was wall-to-wall waltzes and foxtrots. Turgidity ruled. The arrival of R'n'R and Skiffle livened things up, and so gradually and not to mention rather belatedly – Britain's teenagers were dragged into the post-WWII era. Of course it was R'n'R which ultimately laid down the new ground rules, at which point Instromania steadily began to gather pace. Well here is our fourth volume chock full of rare sounds not to be found elsewhere except on those highly collectable old vinyl discs until now.
Click the sleeve above for your link
CD1
JOHN BARRY & HIS ORCHESTRA – The Menace
THE TONY HATCH ORCHESTRA – Devil's Herd
THE XL5 – Caviare
BRIAN FAHEY & HIS ORCHESTRA – At The Sign Of The Swingin' Cymbals
THE KREW KATS – Trambone (alt take, stereo)
THE SHADOWS – Big Boy
THE HUNTERS – I Beg Of You
THE EAGLES – The Lonely Bull
THE SPOTNICKS – Moonshot
THE FENTONES – Gringo
THE OUTLAWS – Smoke Signals
JOE BROWN – English Country Garden
THE THUNDERBOLTS – Feeling In The Mood
RHET STOLLER – Night Theme
THE CHECKMATES – Ram Bunk Shush
JOHNNIE (THE GASH) GRAY – Big Guitar
THE COUGARS – Red Square
KENNY CLAYTON – String Gloves
CYRIL DAVIES & HIS RHYTHM & BLUES ALL STARS – Country Line Special
THE NASHVILLE FIVE – Bag's Groove
CHERRY WAINER – Iced Coffee
SOUNDS INCORPORATED – Sounds Like Locomotion
BOB MILLER & THE MILLERMEN – Tha's It
KEN MACKINTOSH & HIS ORCHESTRA – Squatty
THE INNOCENTS – Grazina
BERT WEEDON – Teenage Guitar
THE SUNSETS – Savoy Club Stomp
RAVENS ROCK GROUP – Career Girl
THE SLEEPWALKERS – Golden Mile
BRIAN BENTLEY & THE BACHELORS – Caramba
JIM GUNNER & THE ECHOES – Footloose
UNKNOWN – The Phantom Hussar
THE RAPIERS – Phantom Stage
THE PHANTOMS – The Phantoma
THE TORNADOES – Ridin' The Wind (US version)
CD2
THE SNEAKY PETES – The Savage (part 1)
THE SUNSETS – Mountain King
THE NU-NOTES – Cherokee War Dance
THE ELDORADOS – Fleetwood
THE NOCTURNES – Raw-Hide
THE OUTLAWS – Barbeque
THE SHADOWS – Tales Of A Raggy Tramline
THE SPOTNICKS – Dark Eyes
THE ALAN MOOR FOUR – Hava Nagila
FIFTY FINGERS-FIVE GUITARS – Night Train
THE TORNADOES – The Breeze And I
THE FEDERALS – Boot Hill
PETER JAY & JAYWALKERS – Jaywalker
THE SPACE TRAVELLERS – Meteorite
LORD ROCKINGHAM' XI – Newcastle Twist
THE FLEE-REKKERS – Bitter Rice
CHARLES BLACKWELL & HIS ORCHESTRA – Supercar
OZZIE WARLOCK & THE WIZARDS – Wow!
THE BUCCANEERS – Hearts Of Stone
THE JOHN BARRY SEVEN – Skid Row
THE DIAMONDS – Chasey-Chasey
THE PETE CHESTER GROUP – Forest Fire
DAVID EDE & THE GO MAN GO MEN – Bootnik
MICHAEL HILL – Beatnik Boogie
DENNIS NEWEY – Yea Yea
JUDD PROCTOR – The Turk
THE JAGUARS – The Beat
THE JEFF ROWENA GROUP – Ambush
THE TED TAYLOR FOUR – Surf Rider
THE WERLWINDS – Dig Deep
THE BOYS – Jumpin'
THE RUSTLERS – A Matter Of Who
WEE WILLIE HARRIS – Got A Match?
BOB CORT SKIFFLE – Bouncing Around
THE ALEXIS KORNER BREAKDOWN GROUP featuring CYRIL DAVIES – Roundhouse Stomp.