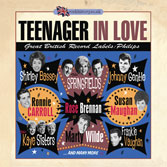 Launched under the proud slogan "The Records Of The Century", their first UK releases appeared in January 1953, via a series of Popular 78rpm singles, with 331/3rpm LPs following in July '54 and 45rpm EPs a year later. Surprisingly, perhaps, Philips would be the last major label to issue 45rpm singles in the UK, in January '58 – although by this stage they'd been releasing them in mainland Europe for several years. The ace up their sleeve, which had been announced in 1951, was that Philips would be taking over the European licensing for US Columbia, whose relationship with their long-time UK affiliate had deteriorated beyond salvation plus EMI UK's reluctance to embrace the new vinyl microgroove LP technology). This effectively served to put Philips in a no-lose situation; they were more or less guaranteed hit records, even if their home-grown releases didn't quite measure up. Two former EMI men, Norman Newell and Len Smith, had been charged with overseeing Philips' UK launch and signing artists.
Click on the sleeve above to buy
CD1 MARTY WILDE – A Teenager In Love
THE SPRINGFIELDS – Island Of Dreams
TONY ALLEN – My Heart Is Free
DEAN STEVENS – I've Just Heard
SUSAN MAUGHAN – Hand A Handkerchief To Helen
ROSEMARY LANE – Who Does He Think He Is
FRANK WEIR & HIS WEREWOLVES – Chant Of The Jungle
FRANKIE VAUGHAN – The Green Door
SONNY STEWART & HIS SKIFFLE KINGS – The Northern Line
MARTY WILDE – Honeycomb
ART BAXTER & HIS ROCK'N'ROLL SINNERS – Don't Knock The Rock
JIMMY LLOYD – Ever Since I Met Lucy
DENNIS NEWEY – Border Patrol
TONY ALLEN – Mr. Happiness
ROY TIERNEY – Cupid
RONNIE CARROLL – (You've Got To) Move Two Mountains
THE BILL MCGUFFIE QUARTET – Out Of Cigarettes
SHIRLEY BASSEY – Tra La La
ANNE SHELTON – Lay Down Your Arms
THE KAYE SISTERS – Are You Ready, Freddy
JOHNNY GENTLE – After My Laughter Came Tears
THE VOLCANOS – Ruby-Duby-Du
BRIAN BENTLEY & THE BACHELORS – Please Make Up Your Mind
THE SPRINGFIELDS – Silver Threads And Golden Needles
JOYCE SHOCK – Personality
JOHNNY GENTLE – Sonja
LYNDA GRAHAM – When I'm Sixteen
SHIRLEY BASSEY – As I Love You
ROSE BRENNAN – Listen To Me
MARTY WILDE – The Fire Of Love
FRANKIE VAUGHAN – The Garden Of Eden
RONNIE CARROLL – Roses Are Red (My Love)
SUSAN MAUGHAN – Bobby's Girl
CD2 FRANKIE VAUGHAN – Tower Of Strength
MARTY WILDE – Jezebel
SUSAN MAUGHAN – Mama Do The Twist
SHIRLEY BASSEY – If I Had A Needle And Thread
JIMMY LLOYD – Humma Humma Humma Humming Bird
FRANK WEIR & HIS WEREWOLVES – Manhunt
THE SPRINGFIELDS – Aunt Rhody
ROY TIERNEY – Casanova
RONNIE CARROLL – To Be Loved
ROSE BRENNAN – Joey Joey Joey
JOHNNY GENTLE – Darlin'
BRIAN BENTLEY & THE BACHELORS – Wishing Well
THE BILL MCGUFFIE QUINTET – Give Seven
FRANKIE VAUGHAN – Seventeen
MARTY WILDE – Misery's Child
TONY ALLEN – (In The) Fool's Hall Of Fame
SALLY GREEN – When's He Gonna Kiss Me
DENNIS NEWEY – Title Unknown
THE SPRINGFIELDS – Dear John
GILL & TERRY – Hallelujah
TOMMY REILLY – Blow, Man, Blow
THE KAYE SISTERS – Love Me Forever
ANNE SHELTON – Sailor
SHANI WALLIS – Sixteen Reasons
FRANKIE VAUGHAN – Wanderin' Eyes
SHIRLEY BASSEY – The Banana Boat Song
JIMMY LLOYD – Witch Doctor
BILLIE LAINE – Ev'ry Chance I Get
JOHNNY GENTLE – Pick A Star
DEAN STEVENS – Sad And Lonely
SUSAN MAUGHAN – I've Got To Learn To Forget
THE VOLCANOS – The Great Impostor
MARTY WILDE – Bad Boy.