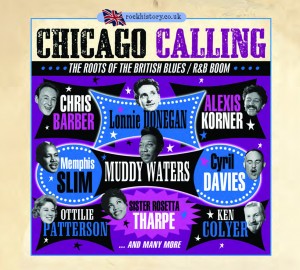 Received wisdom would have us believe that British Blues began in 1962, when Alexis Korner and Cyril Davies opened the celebrated Ealing Club. But things are never quite as straightforward as "received wisdom" would have us think and the roots of British R&B/Blues do, of course, go back a decade earlier. Moreover, although the opening of said club was an important milestone, it wasn't the first Blues club that Cyril and Alexis had opened together… and rather more to the point, whilst it has become de rigueur to embrace Messrs Korner and Davies as the joint Godfathers of the genre, the pivotal figure in the growth of UK Blues was actually Chris Barber, a man whose role and importance is usually overlooked.
Without wishing to get bogged down in a theological discussion about exactly what constitutes The Blues (never forget, one man's Blues can be another man's Jazz), it didn't always exist in the same format. In its embryonic form, there were far fewer guitars involved and rather more brass instruments. Indeed, back in sepia-tinted, 1950s Britain, Blues wasn't perceived as a separate, stand-alone genre, but merely a strand of Jazz – and as regards Chicago Blues, it's unlikely that apart from Cyril Davies, more than a handful of people were aware of its existence. Yet it's interesting to note that Rural Blues was already acknowledged as "different", as visiting US artists like Josh White, Lonnie Johnson, Big Bill Broonzy and Sonny Terry & Brownie McGhee were invariably described as "Negro Folk" musicians. And then, of course, there's the elephant in the room to consider, viz: the eternally unwanted/unloved Skiffle, which, like it or not (and most 'purists' don't), was the general UK 'record-buying public's introduction to Blues repertoire.
Chris Barber was a rich kid from Berkshire, who'd attended the Guildhall School Of Music. Proficient on virtually any musical instrument, he excelled on trombone, double-bass, banjo and guitar and had formed his first Jazz band in 1949. Early peripatetic members included Lonnie Donegan and Alexis Korner and in 1953 they were joined by Ken Colyer, at that time enjoying considerable notoriety (he'd been deported from The US after being jailed in New Orleans for playing alongside local, black musicians). Donegan, Colyer and Barber's Skiffle sets soon became the focal element of the band's live performances; Donegan, in particular, began to enjoy enormous popularity, which ultimately led to Colyer quitting.
Skiffle, of course, finally burst into the UK charts in January '56 with Lonnie's frantic 'Rock Island Line', an LP track which was already eighteen months old and had been enjoying regular radio airplay. But perhaps another early recording was rather more prescient. Back in October '54, the Chris Barber band had recorded a live radio broadcast at the Royal Festival Hall, during which Donegan had performed a typically ebullient version of Washboard Sam's 'Diggin' My Potatoes'. Decca belatedly issued it as a single in February '56, but the BBC took one listen and promptly banned the disc; nonetheless, it sounds to me like bona fide Blues performance; was this the first British Blues record?
Meanwhile, after leaving Barber, Colyer had formed his own Jazz & 'Skiffle band, whose early personnel included Alexis Korner and Cyril Davies (both are on 'Streamline Train'). With his exotic Greco/Turkish/Austrian/aristocratic family background and even more exotic appearance, Alexis exuded star quality and was already something of a minor celebrity on the London scene for his guitar, mandolin and banjo skills. Conversely, Cyril – a panel beater from the Home Counties, whose prematurely-thinning pate made him look older than his mid-twenties – was a dedicated Leadbelly acolyte, remembered by everyone who played with him as being equally proficient on 12-string guitar as harmonica. Other well-travelled Jazz musos who flirted with Skiffle included singer/washboard-scrubber Beryl Bryden (both Cyril and Alexis are featured on her 'Rock Me') and pianist Johnny Parker, who was nominally in Humphrey Lyttleton's band, but also seemed to find time to moonlight with everyone else.
In 1956, Cyril and Alexis opened the London Blues & Barrelhouse Club in a Soho pub, which provided the title for the UK's first ever Blues LP, Blues From The Roundhouse, on which they were billed as Alexis Korner's Breakdown Group Featuring Cyril Davis (typo!) They stayed together a couple of years, changing the band's billing a couple of times, before settling on Blues Incorporated in 1958. Ironically they broke up shortly afterwards, Korner rejoining Barber whilst Davies linked up with guitarist Geoff Bradford, with whom he would later record as a member of The Roundhouse Jug Four.
Chris Barber, meanwhile, had gone from strength to strength, the ace in his pack being Irish lass Ottilie Patterson, a powerful, extraordinarily versatile singer, equally at home on Trad, Jazz, Torch Ballads or old-style Blues. He'd also begun organising UK tours by genuine American Blues singers, backed by his own band, and as a result of his endeavours, Big Bill Broonzy, Josh White, Sister Rosetta Tharpe and Sonny Terry & Brownie McGhee had all visited Britain between 1955-58, although his absolute crowning glory had been in bringing Muddy Waters and Otis Spann over in 1958 – the UK's very first exposure to Chicago Blues.
Barber was also able to persuade Pye-Nixa to record Broonzy, White and Sonny & Brownie – again, backed by members of his band – and he'd had the foresight to record gigs featuring Tharpe, Sonny & Brownie, and Muddy. Ottilie Patterson can be heard to good effect alongside Sonny & Brownie and particularly, Sister Rosetta (who famously complimented Ottilie's singing after one encore-studded performance, with the comment "You ain't nothin' but a whiter nigger!"). Subsequent American visitors to the UK included Champion Jack Dupree, Memphis Slim, Little Brother Montgomery, Speckled Red and James Cotton, all of whom also recorded here, backed by Alexis and other members of the Barber band.
It took a couple of years to percolate, but the knock-on effect of Muddy's 1958 visit began to make itself felt early the following decade. In December '61 Alexis and Cyril resurrected Blues Incorporated, forming the UK's very first electric Blues band in the process – they recorded 'She Fooled Me', with Korner on vocals, just a couple of weeks later. Unable to get a settled residency at The Marquee, they opened the Ealing Club in March '62, following which interest and Blues and R&B began to escalate.
New singers like Jimmy Powell and Little Boy Blue were soon making their presence felt, whilst even established bands like Johnny Kidd & The Pirates and Folkies like Davy Graham began to experiment with R&B and Blues material. But Blues Inc. continued to rule the roost, operating a revolving-door policy as regards personnel, their "second" vocalists including Long John Baldry (check out 'How Long, How Long Blues') and Mike (as he was then known) Jagger. When they recorded the ironically-titled 'R&B From The Marquee' LP (the UK's first electric Blues album) in June '62, Jagger was unable to participate, as he was unwell, although by that stage he was already well into getting his own band together.
In late '62 Alexis decided to add a second sax to Blues Incorporated's line-up, at which point Cyril walked (he was replaced by Ronnie Jones, who can be heard on 'Night Time Is The Right Time'). Davies despised Jazz with a driving passion – brass instruments in particular – and he subsequently formed the magnificent Cyril Davies & The R&B All-Stars, who cut two fine singles for Pye International, notably the breathtaking 'Country Line Special'. But just as it seemed that he might be on the verge of crossover commercial success, Cyril became unwell with pleurisy. He refused to reduce his workload, and in January 1964 he died, suddenly, at the age of just thirty-one, from endocarditis – an inflammation of the inside lining of the heart chambers and heart valves.
Roger Dopson
With very special thanks to Chris Barber.
Big Thanks also to Neil Slaven, Roger Trobridge, Todd Allen, Harry Shapiro, Alexis Reisenhofer, Miyo Kimura, Chas McDevitt, Lawrence Davies and the late Damien Korner.
CLICK HERE or SLEEVE TO PURCHASE