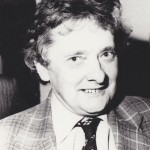 Just to mark the passing of Colin Brown, a man who we have worked with for probably over twenty years now. I first met him when he was at Decca Records and we were licencing music for our See For Miles Records label. He was an absolute font of knowledge and a huge fan of the Big Band era which he grew up in. As a kid he lived two doors away from the trumpeter Nat Gonella who became his great friend and whom he went on to manage.
All the releases that came out on our Empress label were the work of Colin Brown, it was his own personal empire – and then after SFM fell apart he moved all his energies to establishing the new Rex label; named after its defunct predecessor that he knew Universal had let the copyright of the name lapse on and which had been a hugely sucessful Record label of its era.
For several years now we have been working on his project to publish the only book of the charts of record sales from 1940 to 1952. He had collected all the sales figures from the record companies and stored them for years in two lock-up garages in Willesden employing resting musicians to slowly collate the figures. It is finally due to be published by RockHistory at the end of 2013, but sadly now too late for him to witness.
Just before Christmas in 2011 Colin fell down stairs at his house and due to the help of his neighbour, the police broke in and he was taken to hospital and put into a coma in Intensive Care. Five months later he was out and in a nursing home, talking about moving back home to his stack of 78s. He never made it – and so we raise a glass to his memory.