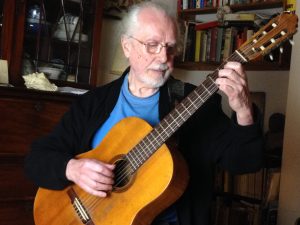 A lovely evening was spent recently with James (and his daughter) with him recounting tales of Davy Graham for the ongoing film 'The Man With The Guitar' – hey can you believe we are nearly finished now? Well the director think we are and then another head pops up.
James moved in that small circle of musicians in the early Sixties who all encouraged each other and introduced everyone who to anyone else who had the musical interest in early RnB and Blues, let alone had a wider interest in music generally. He still treasures the pat on the head from Cyril Davies at a gig for his guitar playing, praise indeed from a man who was always nice to him.
A fascinating and eye opening interview and then a lovely guitar piece to camera to finish with.