Thought you might like this from producer John Leckie's interview,which probably does not make the next book, but is amusingly Roy.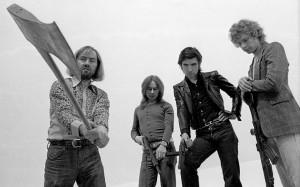 In studio 3 at Abbey Road, Roy's got his electric guitar, and Roy's terrible at electric guitar; he's a great acoustic guitar player.  Some guitarists can play acoustic and some play electric and they can't swap over, and Roy certainly can't play, because he thrashes the electric and you don't have to do that; you don't have to thrash it, it's not an acoustic.  Just turn it up if you want to thrash.  Anyway, Roy's got all his amp set up; we'd been in the studio a few days and we came in one afternoon after lunch break, and there was this opera singer at the piano in Studio 3, and she's tuning up and the guy's rehearsing and of course this as our studio and they've walked into our studio and sat at our piano, not knowing that we were working there.
So Roy just stormed straight out there, plugs in his guitar, turns it up to eleven and starts playing this deafening horrendous row with feedback, and pulling faces and dancing around this opera singer woman, who was German or Spanish or something.  It was a nightmare.  She went and complained of course, and Pete Jenner was going berserk, and Ken Townsend had to sort it out.