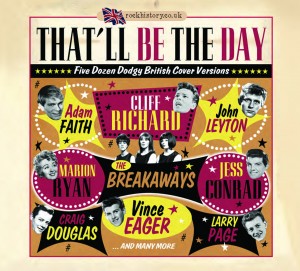 When deejay Kenny Everett started playing random dodgy oldies on Capital Radio back in 1977, in search of "The worst record ever made", he struck a nerve. Every week he'd get a sack of mail from listeners, nominating increasingly bigger stinkers, and the whole shebang quickly mushroomed, taking on a life of its own. The sheer enthusiasm and unsuppressed, manic glee with which Everett pursued his task made for radio gold, and he duly played us some magnificently dire stuff. Eventually, one of the specialist reissue companies, K-Tel, got in on the act and collaborated with Kenny to compile the World's Worst Record Show album, which presented twenty of the biggest clinkers. Pressed up on special yuk-green vinyl, it sold in its truckloads, and even made the UK LP charts.
In among all the Death Discs and other sundry novelty items were some truly gruesome British cover versions of American hits – indeed, it famously featured three of Jess Conrad's, most notably the dreaded 'This Pullover', which gave Jess's then-moribund career (already some fifteen years past its sell-by date) the boost it needed to carry him into the 21st Century! Moreover, for myself and many of my like-minded mates, these were the hidden gems we'd been seeking out for years!
In truth, Jess was nowt but a Learner. Back in October 1957, Larry Page – aka The Teenage Rage – had been responsible for perhaps the most maligned, infamous UK cover of them all, viz: his spectacularly bizarre reading of The Crickets' 'That'll Be The Day'. But it is to his eternal credit that Larry – who of course, went on to carve out a mighty career as a manager, producer, and record company mogul – has always rather enjoyed his notoriety in the covers' genre: "In those days you had no control over what you were doing… as Reg said, 'I didn't have any fucking say in it!' EMI thought that The Crickets' record was a demo, and mine would be bigger. More up tempo, and better. Wrong! The first time I heard their arrangement was at Abbey Road… the backing was Geoff Love and his Orchestra and the Rita Williams Singers. It was the biggest load of crap you ever heard! But I did get to meet Buddy Holly, who told me he liked it… would he lie? And yes, it was me on the Sheet Music for ages, until they saw the error of their ways!…"
In microcosm, Page's cover of 'That'll Be The Day' perfectly depicts everything that was wrong with the UK record industry at that time. Clueless record companies, A&R men and arrangers who hadn't the remotest idea what they were up to, and session musicians who had neither the feel nor interest in what they were playing. Many of the artists featured on this 2-CD set were actually excellent singers, but were routinely lumbered with lame arrangements and even lamer session musos, and so it was they who ended up with copious egg-on-face, looking and sounding ridiculous.
The classic example was perhaps Cliff Richard, who was given Tommy Sands' banal 'Schoolboy Crush' to cover for his first release; the disc was an utter dud, but fortuitously, 'Move It' was on the flip, and the rest is history. In much the same boat were Mike Berry (whose debut, 'Will You Love Me Tomorrow', was arranged in the wrong key for him) and a slightly lesser extent, Adam Faith – although has anyone ever sung flatter than John Leyton on 'Tell Laura I Love Her' (sorry, John, but it wasn't your finest moment!)
The likes of Terry Dene, Wee Willie Harris, Vince Eager and Terry Wayne were appallingly served by their record companies, all four being far, far better singers than their early 45s suggest – as the fact that they're still bloody good live performers, nigh on sixty years on, readily affirms. In much the same category were Nelson Keene, the eternally underrated Jimmy Justice and in particular, the late Duffy Power.
One of the very first R&R hits to register in the UK had been Frankie Lymon's 'Why Do Fools Fall In Love', in 1956, which attracted five high-profile covers; was dance band singer Annette Klooger's effort the worst of the lot? (NB: on this she was backed, vocally, by The Four Jones Boys, who themselves weigh in with a diabolical cover of what must have been Pat Boone's version of 'Tutti Frutti'). Elsewhere, The Everly Brothers occasionally came in for some rough treatment – check out Rory Blackwell's and The King Brothers' thoroughly useless attempts at 'Bye Bye Love' and 'Wake Up Little Suzie' – whilst surely somebody should have warned The Vipers not to mess with Eddie Cochran's 'Summertime Blues'
Some artists were synonymous with covers; step up Craig Douglas (he was no Eddie Fontaine), The Brook Brothers, the lovely Carol Deene, The Kaye Sisters, The Mudlarks (Mary's "Ah-I-wonder-who", on 'Book Of Love', is priceless), The (eternally square) Kestrels, Barry Barnett, etc, while blokes like Don Lang, Doug Sheldon and Mike Preston routinely clambered aboard every bandwagon leaving town in the desperate search for chart action. Conversely, although The Avons wrote hits for other artists (Billy Fury, The Shadows), they were unable to pen one for themselves, hence their naff version of 'Rubber Ball'.
Any number of 'straight' singers found themselves forced to record unsuitable Pop/R&R material, examples here including Lita Roza, Ronnie Carroll (check out that girlie chorus on 'Footsteps'), Al Saxon, Rikki Price, Don Charles, Dickie Valentine (he was thirty when he recorded 'Teenager In Love'!), Alma Cogan, Edmund Hockridge (dig the dodgy accent, Ted!), Marion Ryan and Gary Miller, whilst the likes of Charlie Drake and Oliver Reed probably had no right to be cutting Pop records in the first place!
Falling squarely into the "They just plain got it wrong!" bracket were The Breakaways (whose stiffly-corseted arrangement of 'He's A Rebel', with its marching band tempo, suspends belief), Winifred Atwell (Bill Justis' 'Raunchy', played on the piano !), Ray Ellington, Emile Ford (great singer, lousy song!), Frank Kelly & The Hunters, The Cutters, Bob Cort (is Bob's 'School Day' the worst-ever Chuck Berry cover?), Danny Davis and the less-than mighty Most Brothers (with a truly vile cover of 'Whole Lotta Woman').
Conversely, 'brave failures' included The De Laine Sisters, Jim Dale and The Viscounts, all pluckily trying to punch above their weight, while a trio of unfortunate ladies, Billie Anthony, Anne Shelton and Pauline Shepherd, were let down by duff arrangements and ham-fisted backings on their valiant attempts to tackle R&B material.
But enough of "they nearly got it right"; let's get back to the real stinkers – that's where the fun is!!! Further spectacularly ill-judged efforts featured herein are those by Frankie Vaughan (who probably cut more diabolical covers than everyone else on this 2-CD set combined), Ricky James, Colin Hicks (a man of precious little talent), Garry Mills (his 'Running Bear' is laughable), The Three Barry Sisters, and former Most Brother Alex Murray, whilst a few others simply defy rational explanation, notably those of Gale Warning, Chas McDevitt & Shirley Douglas and The Lana Sisters & Al Saxon.
However, in closing, very special mention must be made of perhaps the biggest crock of the lot, namely Dennis Lotis's wholly excruciating mangling of Clyde McPhatter & The Drifters' 'Honey Love'. This one is so abysmal, on just about every level, you have to wonder if they did it for a bet!
File Under: "They Stunk The House Out (and then some)".
Groper Odson
Big Thanks to Larry Page, Pete Frame, Johnny Rogan, John Spencely, Sam Szczepanski, tiny Tony Martin and Bernie Keith.
Essential reading: The Restless Generation by Pete Frame (Rogan House Publishing, 2007) Starmakers & Svengalis by Johnny Rogan (Queen Anne Press/Macdonald & Co, 1988)