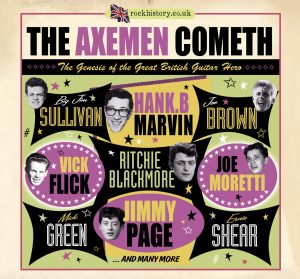 By the late 60s the British Guitar Hero was in the ascendency, and blokes like Jimmy Page, Ritchie Blackmore, Eric Clapton, Peter Green and Alvin Lee were being deified. Rock Music was growing progressively louder, hair was flowing, trousers were tightening, and guitar solos were getting longer, flashier, more intricate and increasingly self-indulgent. The Axe Man had indeed come a long way since his humble beginnings, just fifteen years or so earlier, when either a honking sax or a plinking piano invariably took the lead breaks on a 45rpm record (or in those days, 78rpm), rather than an electric guitar. There had been no British 'Guitar Heroes' back in the 50s – indeed, there hadn't really been any young guitarists – and the sessionmen who played on those records were either disgruntled jazz or po-faced danceband musicians.
Rock & Roll's arrival in the UK had been greeted with derision by the musical establishment, written off as a vulgar, novelty dance craze with a predicted shelf life of little more than nine months. Nonetheless, in the short-term, English record companies cashed in by gunning out watered-down covers of US hits, performed by 'popular young' artists like Frankie Vaughan and Alma Cogan. But the shock arrival of Lonnie Donegan's 'Rock Island Line' in the UK Top 20, in January 1956, changed everything. For once, record companies were caught napping; Skiffle was an essentially indigenous 'craze', spawned in the UK's coffee bars and Jazz clubs, consequently there were no US hits to cover. As a result, Skiffle groups were grudgingly allowed to play on 'their own' records, rather than seasoned session muso's (who, to a man, regarded the genre with utter contempt), and their resultant discs were all the better for it. And so for just about the first time in the history of recorded sound, the UK's young record-buying public were genuinely able to connect with contemporaneous Pop music.
Hot on Skiffle's heels, a home-grown R&R scene began to manifest itself during the Spring and Summer of 1956, and once again, the knock-on effect revitalised the UK recording industry. By now, British record companies were under increasing pressure to cut stronger, near-faithful covers of US R&R hits rather than anglicised 'interpretations', and they gradually began to get it right. In turn, R&R itself was evolving from the early Bill Haley/Freddie Bell brass-propelled model to a sparser, Rockabilly-like Elvis/Gene Vincent/Eddie Cochran/Buddy Holly guitar-driven style, and the key to (nearly) getting it right was the guitar sound.
Early UK session guitarists included Bert Weedon, Ernie Shear, Eric Ford, Judd Proctor, Roy Plummer, Ike Isaacs, Terry Walsh, Brian Daly, Bill Shearer, Don Fraser, Frank Deniz, etc., several of whom are nowadays largely forgotten. Weedon was already something of a minor celebrity, having regularly won "Britain's Best Guitarist" polls in mags like NME and Melody Maker, and he'd been recording as a sideman since the early 50s, playing on countless hits. By 1957 he was just about to publish his groundbreaking Play In A Day guitar tutorial, which would quickly sell in its hundreds of thousands, thus guaranteeing Bert's place in the Grand Scheme Of Things as being indisputably the most influential English guitarist of all time. On this set he can be found backing Marty Wilde, Frankie Vaughan and Johnny Kidd.
Ernie Shear, of course, enjoys near legendary status, essentially for his twangtastic licks on Cliff Richard's 'Move It'. Among a myriad others, he also played on discs by Tommy Steele, Janice Peters, Franklyn Boyd (bizarrely, Cliff's manager at that time), Ozzie Warlock & The Wizards and notably Tony Newley's UK No.1 'Do You Mind'. Eric Ford remains a rather less celebrated figure, although his plaintive arpeggio on 'Maybe Tomorrow' (stolen from Nat King Cole's 'Looking Back'!) certainly helped kickstart Billy Fury's career. Ford was more important, perhaps, for his role as Big Jim Sullivan's early guru and mentor; apart from offering endless encouragement, he also taught Jim to read music and they worked together as a team for many years.
If Bert Weedon was the 'Grandfather' of The British Guitar Hero, then Big Jim Sullivan was, indeed, The Godfather. Just seventeen years of age when he joined Marty Wilde's Wildcats in 1958, Jim was the first of the 'new breed', and he quickly carved out a huge reputation. An extraordinary talent, he could play fluently in any style and once he'd learned to read music, he established himself as the unchallenged Numero Uno session guitarist of choice. Over and above many of Marty's hits, Jim played on literally countless sessions, for artists as diverse as Little Tony, Michael Cox (his 'Sweet Little Sixteen' is another UK R&R classic), Johnny Kidd, Jimmy Powell and Tony Hatch.
The aforementioned Lonnie Donegan famously always employed first-class musicians, particularly guitarists, the most notable of whom were Denny Wright (who also played on Johnny Duncan's records), Jimmy Currie, and the highly-regarded Les Bennetts, the former Les Hobeaux frontman who was still only eighteen when he joined Lon's band in 1958.
Indeed, by 1958 the scene was bursting with new names and faces, the best of whom usually got to swing their axes on TV shows like Oh Boy!, Boy Meets Girls, Wham! and Drumbeat. Certainly, Joe Brown kickstarted his long career thus and early on, whilst he was getting it all under way, he often moonlighted as a session player, lending some pretty impressive licks to Adam Faith, Billy Fury and songwriter Mort Shuman, among others. Likewise, after adorning Vince Taylor's debut 45, Tony Sheridan got his first big break on Oh Boy! – a clip of he and Chris Andrews performing Cliff's 'Move It' has survived – before his move to Germany, and his subsequent adventures with The Beatles.
Mention of Vince Taylor brings us to Joe Moretti, whose very first session yielded the almost unfeasibly magnificent 'Brand New Cadillac', perhaps the UK's finest ever R&R record. To prove that lightning can strike twice, he repeated the trick a little over a year later, on Johnny Kidd's devastating 'Shakin' All Over', albeit playing a riff taught to him by eternally underrated Pirates' guitarist Alan Caddy, who played rhythm guitar on the track. Equally underrated were Mickey King, of Cliff Bennett's Rebel Rousers and Bernie Watson, of Lord Sutch's Savages (the Bluesy Watson later joined Cyril Davies' R&B All Stars) whilst elsewhere, Vic Flick was a Drumbeat regular with The John Barry Seven, for whom his most memorable recording was undoubtedly 'The James Bond Theme'.
After establishing themselves as an integral feature of Cliff's sound (check out the twangular 'Apron Strings', one of the few examples of a UK cover comprehensively eclipsing the US original), it took The Shadows a couple of years to evolve into an independent hit-making unit. But once up and running, the Strat-wielding Hank B. Marvin (who'd first recorded as a member of The Five Chesternuts, back in '58) became widely acknowledged as the very first British Guitar Hero. In The Shads' wake came groups like The Outlaws, Nero & The Gladiators, The Krew Kats (aka The Tom Cats) and The Nashville Five, while the estimable Rhet Stoller cut a number of fine discs in a similar vein.
With the winds of change gathering, another raft of new boys were about to make their considerable presence(s) felt, guys like Jimmy Page, Ritchie Blackmore, the mercurial Albert Lee, and Mick Green ('A Shot Of Rhythm & Blues'/'I Can Tell' was the first classic Beat Boom 45), who would go on to shape Rock Music later in the decade. Indeed, Page and Blackmore would become Rock Gods, a status they both continue to enjoy, more than fifty years on.
Roger Dopson
  click image to BUY
CD1 
CLIFF RICHARD & THE DRIFTERS – Move It! (ft. ERNIE SHEAR)
MARTY WILDE – Bad Boy (ft. BIG JIM SULLIVAN)
JOHNNY KIDD & THE PIRATES – I Can Tell (ft. MICK GREEN)
VINCE TAYLOR – I Like Love (ft. TONY SHERIDAN)
NERO & THE GLADIATORS – In The Hall Of The Mountain King (ft. JOE MORETTI)
JIMMY POWELL – Sugar Babe (pt.1) (ft. BIG JIM SULLIVAN)
BILLY FURY – Since You've Been Gone (ft. JOE BROWN)
JACKIE LYNTON – All Of Me (ft. ALBERT LEE)
MARTY WILDE & HIS WILDCATS – Endless Sleep (ft. BERT WEEDON)
THE TOM CATS – Tom Tom Cat (ft. BIG JIM SULLIVAN)
THE FIVE CHESTERNUTS – Teenage Love (ft. HANK B. MARVIN)
LES HOBEAUX – Dynamo (ft. LES BENNETTS)
FRANKIE VAUGHAN – Wanderin' Eyes (ft. BERT WEEDON)
JOHNNY KIDD & THE PIRATES – Restless (ft. JOE MORETTI)
JANICE PETERS – This Little Girl's Gone Rockin' (ft. ERNIE SHEAR)
RHET STOLLER – Chariot (ft. RHET STOLLER)
GEOFF GODDARD – Try Once More (ft. RITCHIE BLACKMORE)
MIKE BERRY & THE OUTLAWS – Tribute To Buddy Holly (ft. BILLY KUY)
NEIL CHRISTIAN – The Road To Love (ft. JIMMY PAGE)
DON CHARLES – Lucky Star (ft. RITCHIE BLACKMORE)
OZZIE WARLOCK & THE WIZARDS – Juke Box Fury (ft. ERNIE SHEAR)
ADAM FAITH – I Did What You Told Me (ft. JOE BROWN)
THE DRIFTERS – Driftin' (ft. HANK B. MARVIN)
TONY SHERIDAN & THE BEATLES – My Bonnie (ft. TONY SHERIDAN)
BERT WEEDON – Lonely Guitar (ft. BERT WEEDON)
SCREAMING LORD SUTCH & THE SAVAGES – Good Golly Miss Molly (ft. BERNIE WATSON)
JOHNNY KIDD & THE PIRATES – • Please Don't Bring Me Down (ft. BIG JIM SULLIVAN)
THE JOHN BARRY SEVEN – Watch Your Step (ft. VICK FLICK)
CLIFF BENNETT & THE REBEL ROUSERS – You Got What I Like (ft. MICKEY KING)
LONNIE DONEGAN & HIS SKIFFLE GROUP – Cumberland Gap (ft. DENNY WRIGHT)
FRANKLYN BOYD – I Got A Feeling (ft. ERNIE SHEAR)
LARRY PAGE & THE SAGA SATELLITES – I Vibrate (ft. VICK FLICK)
MICHAEL COX – Sweet Little Sixteen (ft. BIG JIM SULLIVAN)
VINCE TAYLOR & HIS PLAYBOYS – Brand New Cadillac (ft. JOE MORETTI).
CD2 
JOHNNY KIDD & THE PIRATES – Shakin' All Over (ft. JOE MORETTI)
CLIFF RICHARD & THE DRIFTERS – Apron Strings (ft. HANK B. MARVIN)
JOE BROWN – The Switch (ft. JOE BROWN)
MARTY WILDE – Tomorrow's Clown (ft. BIG JIM SULLIVAN)
BILLY FURY – Maybe Tomorrow (ft. ERIC FORD)
ANTHONY NEWLEY – Do You Mind (ft. ERNIE SHEAR)
JET HARRIS & TONY MEEHAN – Diamonds (ft. JIMMY PAGE)
CARTER, LEWIS & THE SOUTHERNERS – Two Timing Baby (ft. ALBERT LEE)
MORT SHUMAN – I'm A Man (ft. JOE BROWN)
JUDD PROCTOR – It's Bluesy (ft. JUDD PROCTOR)
LONNIE DONEGAN & HIS SKIFFLE GROUP – Darlin' Corey (ft. LES BENNETTS)
TONY SHERIDAN & THE BEAT BROTHERS – Top Ten Twist (ft. TONY SHERIDAN)
JOHN BARRY SEVEN & ORCHESTRA – The James Bond Theme (ft. VICK FLICK)
CHAD CARSON – They Were Wrong (ft. RITCHIE BLACKMORE)
MARTY WILDE & HIS WILDCATS – Honeycomb (ft. BERT WEEDON)
THE KREW KATS – Jack's Good (ft. BIG JIM SULLIVAN)
JOHNNY KIDD & THE PIRATES – Please Don't Touch (ft. ALAN CADDY)
VINCE TAYLOR & HIS PLAYBOYS – Pledging My Love (ft. JOE MORETTI)
ERNIE SHEAR / THE LEW RANDALL BAND – Cannonball (ft. ERNIE SHEAR)
HELEN SHAPIRO – Don't Treat Me Like A Child (ft. VICK FLICK)
THE OUTLAWS – Rodeo (ft. BILLY KUY)
MARK DOUGLAS – Upside Down (ft. RITCHIE BLACKMORE)
THE NASHVILLE FIVE – More Like Nashville (ft. BIG JIM SULLIVAN)
JOHNNY DUNCAN & THE BLUEGRASS BOYS – • All Of The Monkeys Ain't In The Zoo (ft. DENNY WRIGHT)
LONNIE DONEGAN & HIS SKIFFLE GROUP – Shorty George (ft. JIMMY CURRIE)
THE SHADOWS – The Rumble (ft. HANK B. MARVIN)
LITTLE TONY & HIS BROTHERS – Foxy Little Mama (ft. BIG JIM SULLIVAN)
TOMMY STEELE – C'Mon Let's Go (ft. ERNIE SHEAR)
THE SNEAKY PETES – The Savage (part 2) (ft. JOE BROWN)
JOHNNY KIDD & THE PIRATES – Feelin' (ft. BERT WEEDON)
NERO & THE GLADIATORS – The Trek To Rome (ft. JOE MORETTI)