Another good interview in the can this time with Phill Brown who started as a Tape Op at Olympic Studios learning to record the extraordinary bands that passed through those fabled walls before moving, via Canada, to the new Island Records studio in Basing Street where he made his mark and then beyond to the world of the freelance producer.
So many excellent stories about the thousands of musicians he has recorded including Led Zeppelin, The Rolling Stones, Bob Marley, Little Feat, Roxy Music, Dido and Talk Talk. So many tales to tell and as a bonus he has written his own life story too – just search for 'Are We Still Rolling?' and wait for some clips to appear here at RockHistory. A small excerpt below about Olympic Studios and Family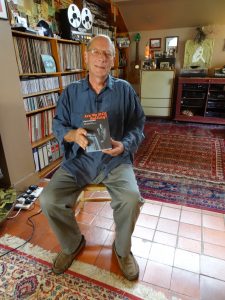 I start at Olympic in Barnes in November 1967. I was out of school, 16 years old, or just 17. It was four track. I basically trained with people like Eddie Kramer and Glyn Johns. George Chkiantz, who as an amazing assistant, really, he was always classed as assistant. He was behind the tape phasing for 'Itchycoo Park', he did all the phasing on the Family's Music in a Doll's House. He worked with me on the Stones doing 'Jumping Jack Flash'. He was a mentor to me, really. He was only 20 years old. You'd think of him more like a 30 year old, but he was 20 years old, I was 17. I was there for a year. It would be interesting to know if  Music in a Doll's House, was mixed in a mono form, because a lot of the effects are extreme panning, and things that are out of phase that come out behind you. In mono, that would all disappear anyway. If there is a mono, it would be a very different record, probably. I remember them working on that at Olympic. I wasn't on at those sessions, but I remember George, I'm just trying to think who else, maybe Alan O'Duffy, but I remember these guys. It was pretty revolutionary at the time: the hard editing, and the tape phasing, and the effects. You know, you had no plug-in effects. Everything had to be manufactured. If it was an echo thing, a reverb thing, tape delays, or putting a speaker in a corridor, it was all pretty much thought up on the spot, which also made it exciting, but hard to repeat.